EASILY CREATE S CURVES FROM YOUR FAVOURITE PLANNING SOFTWARE
Project Tracker is a Windows based application that imports project information from Oracle Primavera P6, Microsoft Project and Asta Powerproject* to create S-Curves which are used to analyze the progress of the project.
Project Tracker has the following ability to
Import projects and baselines from Microsoft Project
Import projects and baselines from Asta Powerproject
Create S curves without assigning costs or resources
Create S curves without having to export to Excel
Payback after first progress reporting period
View Gantt chart under S curve
Fully configurable
Easy to use and learn
Filter by WBS or Activity code
Batch print for multiple one click reports
Text based progress report included
Add text to curves
Create and save views of filtered curves
Dynamic feedback of progress status at any point
Create forecast lines based on current progress rate
Create recovery program lines
Activity properties pane to view activities
Save data to xml to share with other users
Logo and version control on printouts
Project Tracker is a 100% Web based Project Office (PMO) software solution that helps your organization's Project Office to manage its portfolio more effectively and reduce costs, by providing tools, reports and functions that simplify the tracking, scheduling and management of work and resources. Organizations can also better manage initiatives using other modular Tracker applications such as Time Reporting.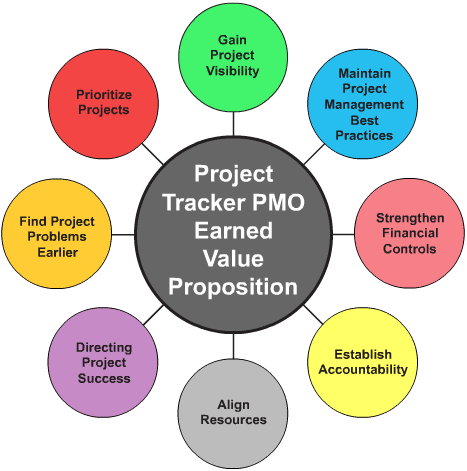 Implementing a PMO solution can increase the number of projects completed on-time and on-budget, and ensure that resources are neither overloaded nor under-utilized within the organization. However, the amount of work this entails places a heavy burden on a Project Office that is relying on spreadsheets to track initiatives and resources. Project Tracker provides a single, online portal for your Project Office, from which it can gather, combine and view the data it needs for true business intelligence.
What sets this solution apart from others is its integration capabilities with email platforms, including Microsoft Outlook, Lotus Notes and Web based email systems such as Gmail. The integration provided by our Web based software offers your strategic PMO unique workflow opportunities as well as improved communication.
The benefits of a PMO utilizing our software include:
Leveraging the visibility of projects to regulate more efficiently.
Complete resource allocation to decrease duplication and save time and money.
Structure and control to help stay on schedule.
Retention of best practices to determine methodologies that are successful.
Instant information and reports that can export to Excel, Power Point and more.
Role based options to provide accountability and security.
To learn more visit
http://fndsite.com/